Main content starts here, tab to start navigating
Slide 1 of 8
Slide 2 of 8
Slide 3 of 8
Slide 4 of 8
Slide 5 of 8
Slide 6 of 8
Slide 7 of 8
Slide 8 of 8
Join us September 8th - 17th during Arizona Restaurant Week!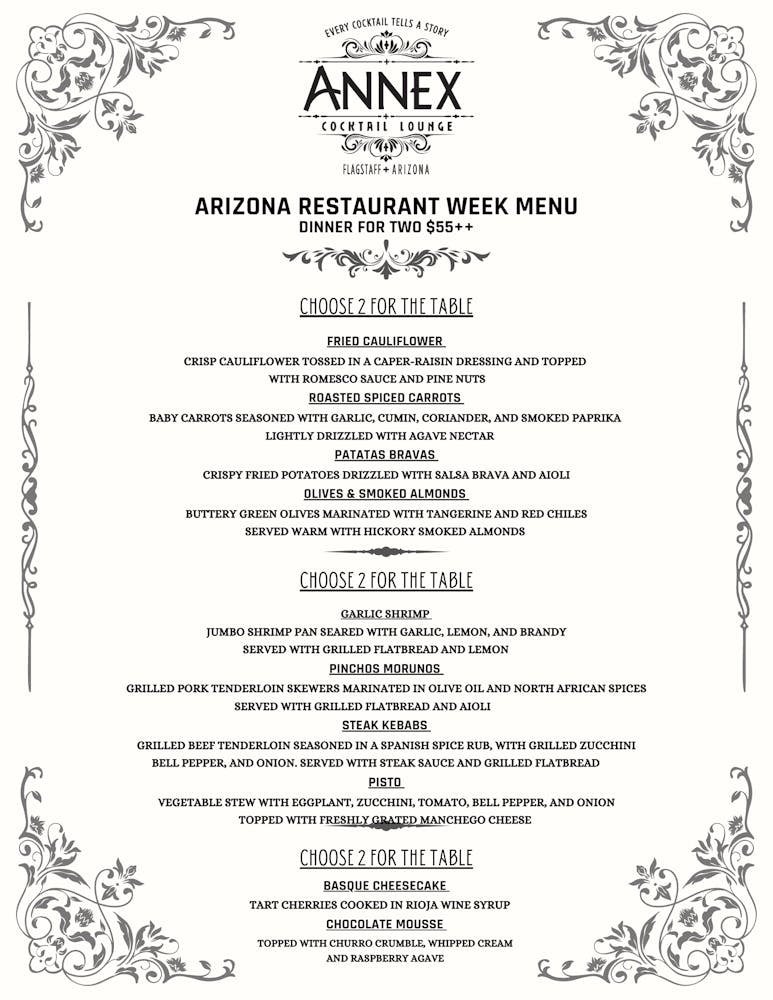 The craft cocktail menu at the Annex Cocktail Lounge is designed to rival any cocktail bar in San Francisco, New York, or any city in between. Our process of research & development is second to none, and our emphasis is on telling a story with each sip. The care and precision that goes into creating each one of our cocktails tells the story of our passion for libations, and our love for providing each guest with an experience that they will remember for the rest of their lives.
Shandies
Annex Shandy

Pilsner, vodka, lemonade

$8

Grapefruit Shandy

Ipa, gin, grapefruit

$8

Mexican Shandy

tequila, lime, modelo especiál lager, tajin

$8
LIGHT & LIVELY
Fake ID

ritual n/a tequila, lime, coconut water, guava, cilantro sprig

$12

Along the Lines

rosé, grapefruit, sloe gin, aperitif, raspberry, pomegranate

$14

Minnie Moxie

sarsparilla infused rhum agricole, dark rum, aperol, amaro, vermouth

$16

Folklore

turmeric gin, cachaça, rum, lime, banana

$16

Royal Divorce

earl grey infused gin, vanilla cream, lavendar

$16

Warpaint

pisco, au de vie, apple, lemon, sherry, agave

$15

Stellar Sol

pimm's, mezcal, ginger, lemon, celery, soda

$14

Jungle Solstice

rum, gin, coconut, orgeat, lime, pineapple, splash of IPA

$16

High Priestess

citrus vodka, aperol, amaro, lemon, cinnamon

$14
ELEGANT & HONEST
Love, Arizona

sedona gin, chartreuse, aloe, melon, amaro

$17

Sierra Madre

guajillo chile infused tequila, green chile, molé, cinnamon, soda

$14

Naive Melody

gin, singani, genepy, sherry, lime, honey, coconut milk

$14

Lead into Gold

rye whiskey, apricot, orange blossom, coconut

$16

Backwoods

old forester bourbon, apple brandy, peach, rosemary smoke

$12
In honor of the rich cultural heritage of the Historic Basque Handball Court located on our outdoor patio, Executive Chef Mike Schmitz of Annex Cocktail Lounge has created this menu for our guests to enjoy. The dishes were crafted with a shared dining experience in mind, emphasizing a Spanish tapas style with our own Flagstaff flare. We envision friends and families sipping our craft cocktails and wine, ordering multiple plates, and enjoying the warm, laid-back, yet sophisticated atmosphere for which Annex has come to be known throughout our thirteen year history.
Our Classic
the annex burger

7 oz filet mignon patty with bacon jam, cheddar, house pickles, and secret sauce, with fries and house catsup
Tapas
olives & smoked almonds

buttery green olives marinated with tangerine and red chiles, served warm with hickory smoked almonds

patatas bravas

crispy fried potatoes drizzled with salsa brava and aioli

fried cauliflower

crisp cauliflower tossed in a caper-raisin dressing and topped with romesco sauce and pine nuts

roasted spiced carrots

baby carrots seasoned with garlic, cumin, coriander, and smoked paprikalightly drizzled with agave nectar

butterbean hummus w/ flatbread

butterbeans mashed with garlic, tahini, lemon juice, cumin and sea salt. Served with grilled flatbread, cucumber, and red bell pepper

pisto

vegetable stew with eggplant, zucchini, tomato, bell pepper, and onion, topped with freshly grated manchego cheese

Spanish Garlic Shrimp

jumbo shrimp pan seared with garlic, lemon, and brandy, served with grilled flatbread and lemon

pinchos morunos

grilled pork tenderloin skewers marinated in olive oil and north african spices. Served with grilled flatbread and aioli

steak kebabs

grilled beef tenderloin seasoned in a spanish spice rub, with grilled zucchini, bell pepper, and onion. Served with steak sauce and grilled flatbread

mussels & clams

steamed with a saffron white wine broth and spanish chorizo

The board

a seasonal rotation of spanish meats and cheeses (serves 2)
Sweets
chocolate mousse

topped with churro crumble, whipped cream and raspberries

basque cheesecake

topped with tart cherries cooked in rioja wine syrup
Beverages
Arnold Palmer

$3

Az Green Tea

$2.50

Chocolate Milk

$2.50

Dasani Water

$2.50

Diet Coke

$2.50

Fanta (Orange)

$2.50

Hot Tea

$2.50

IBC Root Beer

$2.50

Mexican Coke

$3

Milk

$2.50

San Pellegrino

$4

Simply Lemonade

$3

Simply Orange

$3

Sprite Bottle

$3

Tourist Home Iced Tea

$3

Tropicana Apple Juice

$2.25
Coffee Bar
Drip Coffee

Regular $3

Large $3.50

Single $2.75

Double $3.75

Americano

$2.75

Latte

$4.50

Cappuccino

$3.75

Mocha

$5